Home
Talk

1
2,743pages on
this wiki

Come visit the NEW and IMPROVED website:
VEGGIETALES: THE ULTIMATE VEGGIEPEDIA!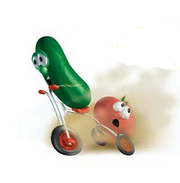 Here is the website URL: http://veggietales-the-ultimate-veggiepedia.wikia.com/wiki/VeggieTales_-_the_Ultimate_Veggiepedia_Wiki
(please read the Rules/Policy) Thank you!
This wiki will still be here, but you are always welcome to join in the fun at VeggieTales: The Ultimate VeggiePedia!
if you have any questions about our new website, message me, and I'll answer it ASAP. :-)
 — The founder of VeggieTales - It's for the Kids! Wiki, PotatoMan10
IF YOU WANT TO BE AN ADMIN, MESSAGE POTATOMAN10
Welcome to the VeggieTales - It's For the Kids! Wiki
Join Bob and Larry in the Christian Biblical show about God! Help by writing and editing articles about characters, episodes, locations songs, ect. If you don't know VeggieTales, visit VeggieTales.com or read this wiki to learn more! It will also help to correct grammar or spelling errors and please use Italics and apostrophes when you list episodes. Have fun and rememeber: God made you special, and he loves you very much!
Great Tips
Use the terms cameo or picture to state a character's appearance in an episode.
It would really help if plots were bigger and more detailed.
Please use Italics when typing an episode or Silly Song on an article.
If you see a slight error or grammar mistake, please fix it if you know teh correct word.
If you have any knowledge about VeggieTales and we don't have it on our wiki, please add a page about it or add things to articles.
If you're writing an episode transcript, make sure it's word for word.
Make sure the transcripts stay true to the original episodes.
Do NOT post any pictures you made youself or found on the internet and claim that it came from the show.
Please no fan-made characters, episodes, or pictures.
Vandelizing pages, bad behavior, or adding very meaningless pages may cause banishment from this wiki.
Wikia News
I am glad to announce that know we'll be adding Locations to the categories!
I am glad to announce we will be adding Objects to the categories!
I will now allow Unnamed Characters pages, but no useless ones.
Latest activity
Hello, There! This wiki needs some help getting started and needs more people helping creating pages! If you know what VeggieTales is, create pages about it! You can also help by telling friends who know it, also!