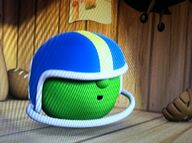 William is a minor character in VeggieTales. He is a three-year old pea who first appears in "God Made You Special as one of the interviewed Veggie Kids. He seems to like sports, including baseball, basketball, and probably football, all which he says he was taught by from God.
Appearance
William is a small pea who wears an oversized football helmet that tilts from side to side. The helmet is blue and has a white stripe in the middle.
Acting
Himself in "God Made You Special"
Himself in "Silly Little Thing Called Love"
Himself in "Happy Together"
Ad blocker interference detected!
Wikia is a free-to-use site that makes money from advertising. We have a modified experience for viewers using ad blockers

Wikia is not accessible if you've made further modifications. Remove the custom ad blocker rule(s) and the page will load as expected.