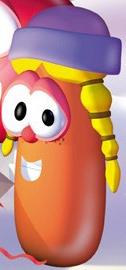 Appearance
Winter Carrot is a carrot has a yellow hair with orange hairbend wears a purple and pink winter hat
Acting
Themselves in The Toy That Saved Christmas
Herself in "Saint Nicholas: The Story of Joyful Giving"
Herself in "Twas the Night Before Easter"
Herself in "The Little Drummer Boy"
Herself in "The League of Incredible Vegetables"
Ad blocker interference detected!
Wikia is a free-to-use site that makes money from advertising. We have a modified experience for viewers using ad blockers

Wikia is not accessible if you've made further modifications. Remove the custom ad blocker rule(s) and the page will load as expected.